Get stuff actually done this time.
Lunatask is an all-in-one encrypted to-do list, habit and mood tracker, journaling and notes app.
It remembers stuff for you and keeps track of your mental well-being 🌟
Available for macOS, Windows, and Linux 🖥
iOS and Android companion apps in beta — sign up here 📱
Join our wonderful Slack Community 👨‍👩‍👧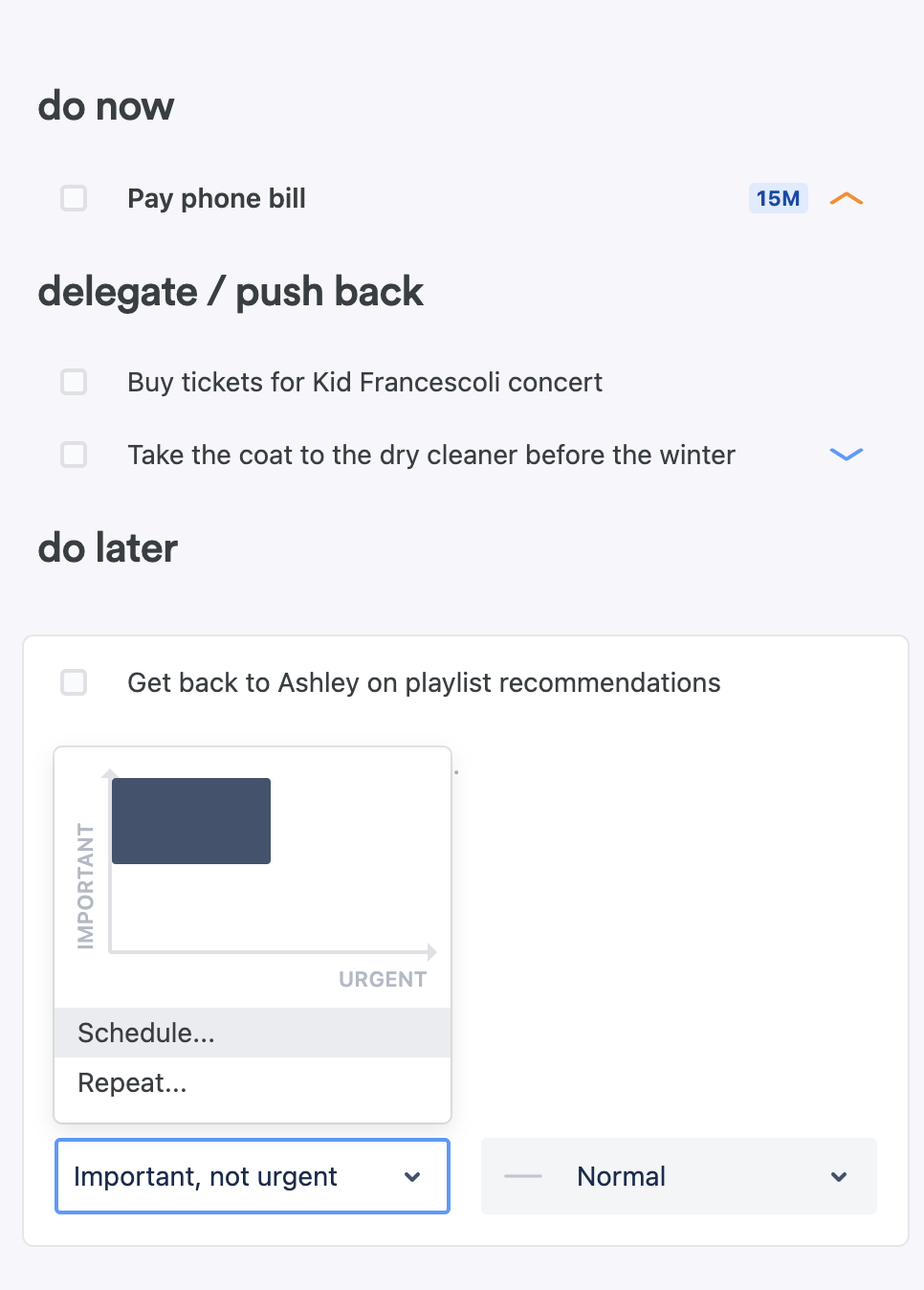 Smarter Lists
Our lists automatically prioritize tasks for you to take the weight off your shoulders and ensure no task is left behind. Build your perfect workflow by combining numerous built-in and battle-tested productivity techniques.
Must/Should/Want Method
Eisenhower Matrix
Pomodoro-style Timer
Work-in-progress Limit
Daily Calendar & Time Blocking
Connect your calendars to see meetings and calls directly next to your tasks. Then, drag your planned tasks and habits onto the calendar to fill the space in between.
Time Blocking of Tasks & Habits
Supports Google, Outlook, iCloud, etc.
Join Zoom, Google Meet, and Teams Calls
Create Notes for Events from Templates
Build Healthy Habits
Adopting new healthy habits is hard, we've all been there. Our beautiful visual habit tracker gives you accountability and shows your progress. Get rid of bad habits and build new healthy ones.
Daily & Weekly Habits
Customizable Recurrence
Current/Record Streaks
Reminder Notifications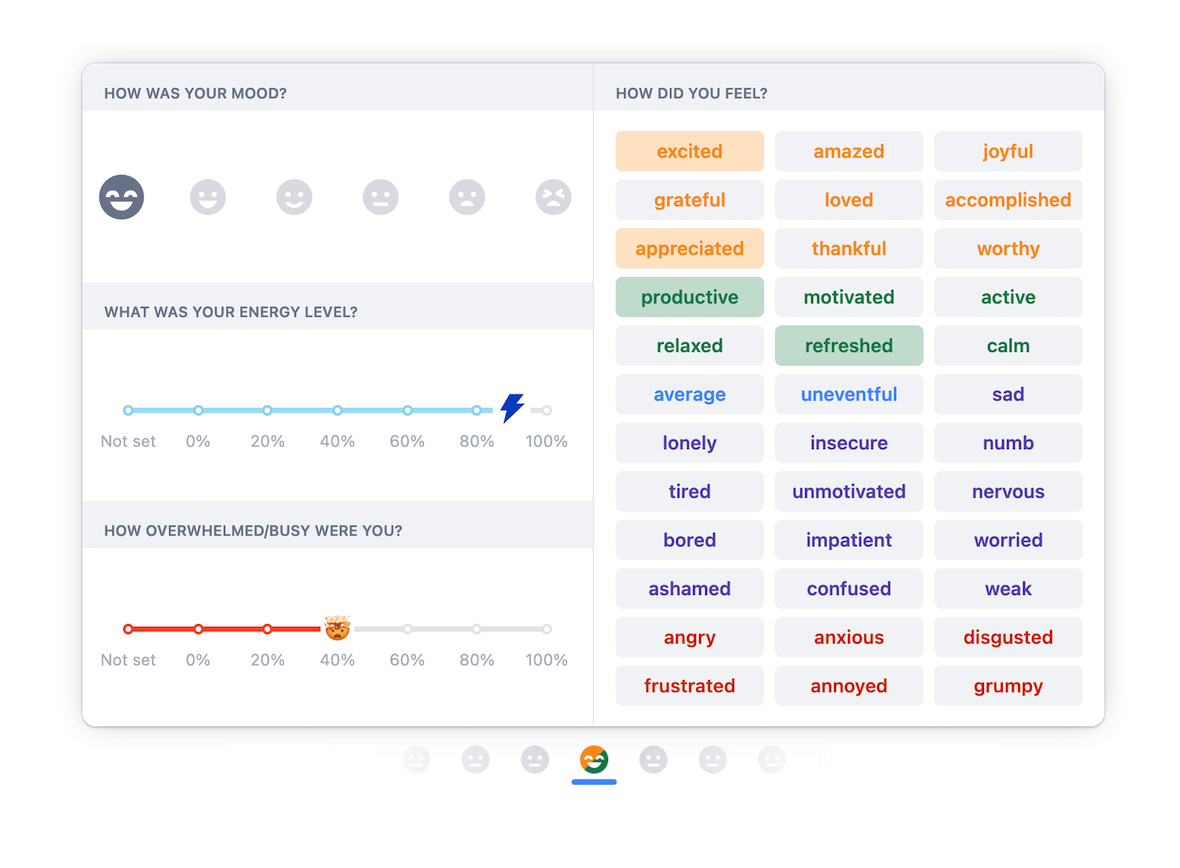 Track How You Feel
Whether you have trouble managing mood swings, stress, anxiety, or depression, tracking how you feel will give you visibility into how you are doing over time and how your new habits affect you.
Mood and Emotion Tracker
Energy Level Tracker
Stress Level Tracker
Secure Notes
Whether writing a list of goals for the next week, meeting notes, or your favorite recipe, our end-to-end encrypted notes and notebooks keep everything organized.
Markdown Support
Note Sharing
Note Templates
PIN-protected Notebooks
Journaling
Keep a log of your thoughts, feelings, and experiences for self-expression
and reflection and keep track of your mental well-being.
PIN Protection for Extra Privacy
Customizable Template for Entries
An Open Platform
Your task list is at the center of your life — it's important everything is there. Connect the tools you're already using and bring tasks from your favorite apps into your task list.
Check some of our other features
Prioritize with Ease
Group and sort tasks by any dimension to see what's important. Lunatask always tries to bubble the most urgent tasks to the top and highlights the next task to work on.
Manage Separate Lives
No more need to look at work-related tasks during the weekend unless you want to. Now you can keep separate tracks of work.. well, separate.
Status Tracking
Not all tasks are actionable. Don't be distracted by those which are not, and focus on what you can actually move forward. Hide everything else.
Recurring/Scheduled Tasks
Keep track of future tasks with ease and let Lunatask bring you back to them when the time comes.
Task Estimation
Don't feel overwhelmed. Estimate the time needed to complete each task to see how much actual work is on your shoulders. It might be less than you think.
Pinned Tasks & Notes
Pin tasks and notes to the top of the list to have them always at your sight.
WIP Limit
Configurable work-in-progress limit notifies you when you have too much unfinished work. Finish what you already started before picking up new work.
Dark Mode
Save battery life and your eyes in low-light conditions.
Notifications
Reminder notifications when your tasks, habits, or meetings start.
Weather Widget
Forgot to check the weather before going out and now not appropriately dressed for a cold morning? Never be surprised by the weather again.
Quick Note
One note visible all the time next to your tasks – like a scratchpad for quick notes during meetings, checklists, reminders, etc.
ADHD-friendly
Managing tasks and getting them done can often be a challenge. We designed Lunatask with ADHD brains in mind and tools to help.
All-in-one
Our all-in-one approach allows us to integrate all pieces together — tasks with calendar or events with notes. You can't do that if these live in separate apps.
Blazing Fast Sync
All changes you make are securely synced between all your devices faster than you can blink.
State of the Art Security
Your data like task names or note content is end-to-end encrypted by industry-leading encryption algorithms. No one has access to your data, not even us.
Focused on Privacy
End-to-end encryption of your data
We ask just for the email address
We don't sell your data
No in-app product analytics or tracking
Do I need a credit card to sign up?
Nope! You'll only be asked for a credit or debit card if you choose to purchase a monthly or yearly premium subscription. You don't need to enter payment information to enjoy our forever free plan.
What about VAT or sales tax?
All prices for Lunatask distributed outside the Mac App Store exclude VAT or sales tax. If these apply in your region, we will add them to the subscription price at checkout. The prices in the Mac App Store already include VAT or sales tax and are final.
Can I one-time buy a lifetime licence?
Yes, we offer a lifetime premium for a one-time payment of $180. Note that the purchase of the lifetime premium is not available in the Mac App Store version of the app. Please, download Lunatask for Mac from here instead.
How can I cancel?
You can cancel your subscription anytime, for any reason — no questions asked. In that case, you can still enjoy premium features until the end of the period you paid for. After that, you'll be downgraded to the free plan.
Can I pay by invoice?
If you are a company, you can purchase a one-time buy lifetime premium and pay via a bank transfer. Send us a message, attach your company's billing information, and we'll send you an invoice in return.
Don't just take our word for it
4.6/5.0
User rating on the Mac App Store
"Finally found an app for my brain!"
@briefDots
via App Store Reviews
"I've been using Lunatask for a while and what always strikes me is how quickly it evolves. Every month, there are new features to play with."
Dominik Plsek
via ProductHunt
"Like WOW. I needed this!!!!!"
@Janoucious
via App Store Reviews
"Legit already the best time-blocking app. If you struggle to follow your blockings and get frustrated, this app is for you."
Jan
via Microsoft Store Reviews
"Just came across @lunatask and I'm really impressed"
"The app is a real gamechanger and has a lot of promise!"
"Lunatask is a revolutionary application that is missing in the market!"
"Very promising privacy-focused app with end-to-end encryption."
@raingros
via AlternativeTo
"It is an amazing app. A real gem."
@Jaydpoet
via App Store Reviews
"Ddaanngg Lunatask is super snazzy"
"I've tried ALL the organizational/habit tracker/to-do list apps out there... and I have fallen in love with Lunatask. Every detail seems to have been carefully thought through. I wholeheartedly recommend it!"
@Ekggggg
via App Store Reviews
"One of the very few E2EE task managers with a great design and dedicated developers!"
"I tried every single to-do app out there and Lunatask is the first I truly stick to and really like to use on a daily basis."
Steffen Pidun
via App Store Reviews
"I love the different workflows, they make so much sense to me."
Katie Hill
via Slack Community
"Lunatask manages to put together the most important planner apps into one nice package without being too overwhelming. I've tried a lot of different kinds of software and the dev of this one really got it right!"
Philipp
via Microsoft Store
"Definitely a tool worth trying. With its multiple opinionated prioritization systems, it does the heavy lifting for you."
Josef Sekava
via App Store Reviews
"I love your app! I've tried every single productivity app and yours is undoubtedly the best. Thank you so much for creating it."
"This app is literally incredible."
"Intrigued by this to-do app"
Vince Schwidder
via Twitter
"Wow, this app has a lot of clever concepts. I tried many different todo apps (MANY!), and this one definitely gets a lot of things right."
@teespe
via App Store Reviews
"Dang, this app is awesome"
"I don't think I've ever paid for a premium plan so quickly. Just a few clicks using the app and I could tell, everything I wish my to-do list would do, this does it."
Will Klein
via Slack Community
"Lunatask has really been life-changing. I know it sounds dramatic, but it really has helped my routine so much!"
Sophie-Louise Shearwood
via support